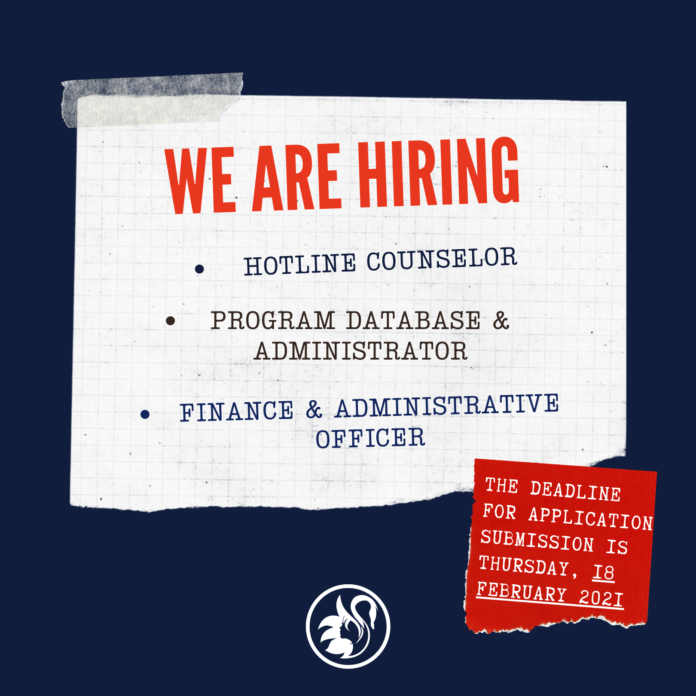 We are hiring!
Hotline Counselor

Program Database & Administrator

Finance & Administrative Officer
General Requirements:
Indonesian citizen;
Have 1 – 2 year(s) of professional experience related to the vacant position, experience in non-profits organization or professional certification, and related training/course is a plus;
Committed to feminist values and the promotion of Sexuality and Reproductive Health & Rights (SRHR) key principles and issues;
Exceptional interpersonal and communication skills for enabling professional interaction;
Able to deal with sensitive information with discretion and maintain confidentiality;
Possess strong problem solving and analytical skills as well as excellent written and verbal communication in English; and
Tech-savvy and willing to be based in Yogyakarta.
Details:
Hotline counselor
Main duties and responsibilities:
provide reliable information and deliver empathetic counseling on SRHR & unplanned pregnancy;
response to any queries from clients including to handle and resolve complaints; and
analyze information and data from counseling, and keep its documentation in the database system
Program Database & Administrator (PDBA)
Main duties and responsibilities:
manage and maintain the organization's database system, i.e Google Drive, Podio, Workplace, etc.;
administer all digital accounts including emails and software subscriptions;
design and maintain official websites; and
develop and oversee a strategy to secure an online database system and manage digital security.
* Please note that the PDBA shall be familiar with website design, digital accounts maintenance, and database & security management.
Finance & Administrative Officer (FAO)
Main duties and responsibilities:
record all transactions, and prepare financial statements and administrative reports using appropriate technology;
assist with the implementation of financial policies such as payroll, expenses & transfer requests, invoices, financial audit, etc.;
administer and maintain the organization's database system particularly on administrative procedures, staff regulations, and office updates;
Provide any other financial and administrative support as assigned by the supervisor.
* Please note that the FAO shall be familiar with the financial accounting system and HR or administrative management. Any previous work experience on similar posts and related certification or training/course is a plus.
Benefits: Jogja Minimum Wage salary (UMK Jogja), allowances: healthcare, communication, and well being, and opportunities for personal growth and professional development.
How to apply :
Prepare your CV/Resume (mandatory) and motivation letter (optional);
Please access our online application form at https://s.id/samsara_recruitment;
Answer all questions and attach your CV/Resume before submitting your application;
Please note that we will not process any application submitted after the submission deadline. Due to the high number of applicants, only selected candidates will be contacted for an interview invitation;
The deadline for application submission is Thursday, 18 February 2021
Should you need any details on this recruitment, please leave a comment on our Social Media or send us an email at hello@samsara.or.id.
Thank you for your interest in our organization and we wish you all the best in the selection process!